The Progressive Revolution
The Progressive Revolution, a new book by longtime political activist Mike Lux, gives fresh life to the chapters of American history that conservatives want to forget. Lux demonstrates that progressives and the progressive movement have forged the kind of country in which we want to live. He challenges conservative myths such as the ineffectiveness of the War on Poverty and the insignificance of Tom Paine's role in the American Revolution. Most exciting, Lux makes the case that the circumstances are ripe for another Big Change Moment, when once again progressives have the power and courage to take our nation forward.
This clear and accessible account does more than set the record straight on such great progressive achievements as women's suffrage, national parks, Social Security, civil rights legislation, and restoring the environment. It builds a platform from which to argue that progressives today continue the centuries-old struggle to improve America and advance the cause of freedom, in contrast to how conservatives have always worked to defend the interest of elites and instill fear of big changes.
Whether you're a political junkie, an impassioned progressive, a history buff, or a conservative seeking insights on how the other side thinks, The Progressive Revolution will challenge your preconceptions, expand your understanding of American history, and give you plenty of food for thought.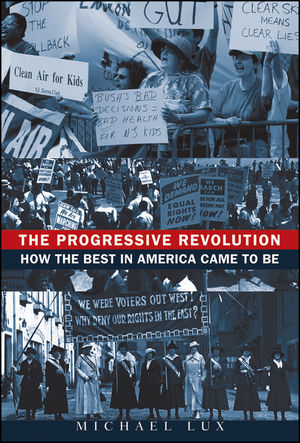 Now available in bookstores and online!
For more details on how to get your copy, click here.